Ebony Goddess
Queen of Ilê Aiyê
2010 HBO NALIP Documentary Award Finalist
WINNER
Best International Film—2016 Charlotte Black Film Festival
Best Short Documentary—San Diego Latino Film Festival
African Diaspora Film Award—San Diego Black Film Festival
Synopsis
Ebony Goddess: Queen of Ilê Aiyê follows three women competing to be the carnival queen of Ilê Aiyê, a prominent and controversial Afro-Brazilian group with an all-black membership. The selection is based on Afro-centric notions of beauty, in counterpoint to prevailing standards of beauty in Brazil, a country famous for slim supermodels and plastic surgery. Contestants for the title of Ebony Goddess dress in flowing African-style garments, gracefully performing traditional Afro-Brazilian dances to songs praising the beauty of black women.
For Aurelina, Joseane and Talita, the competition for the title of Ebony Goddess is part of a profound and personal search for identity and self-esteem. The figure of the Ebony Goddess, representing a "black is beautiful" view of black women, resonates with women of African descent in Brazil, the United States and throughout the world of the African Diaspora.
For Aurelina the contest has become an obsession. She has competed in the past four years, but never won the contest, although once she placed third. Every year she feels an irresistible need to try again. She says she already feels like a queen, and just needs the title itself.
"EBONY GODDESS penetrates the intimacy of Afro-Brazilian women in search of their own expression of beauty. It is a film that help us comprehend the mechanisms of a society that praised miscegenation at the same time that it repressed differential singularities. By dancing, these women became goddesses of their own liberty in the neighborhood of Curuzu, in Bahia, Brazil. I highly recommend this film for Latin American, Brazilian, African Studies, as well as for Film, Drama, Performance Studies, and International Relations."
—Marília Librandi Rocha, Assistant Professor of Iberian and Latin American Cultures, Stanford University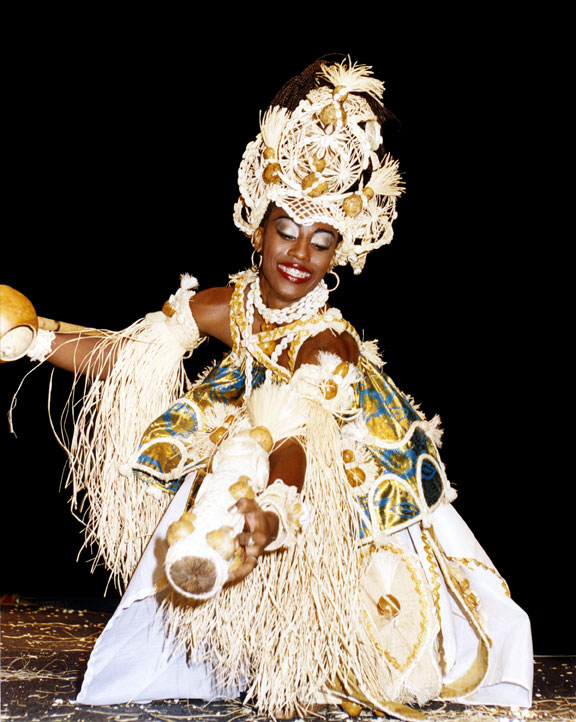 Talita is taking dance classes, and wants to become a professional dancer. She earns a living by tutoring kids in the community, and offers free help to kids who cannot afford to pay.
Joseane has recently become involved in the African dance styles of Ilê Aiyê, and counts on the support of her family and friends as she prepares for the competition. Her father has participated in Ilê Aiyê since its early years, when the group was harassed by the police and accused by the media of being racist for having an all-black membership.
Commentary is provided by Antônio Carlos "Vovô", founder and president of Ilê Aiyê, and by Arany Santana, one of the director's of Ilê Aiyê and current Secretary of Social Development and Fight Against Poverty for the city of Salvador.
"Recommended. Provides an entry point to discuss cultural standards of beauty, public portrayals of women, and cultural celebrations."
—Educational Media Reviews Online (EMRO)
Following the three candidates' daily lives, dance rehearsals, and interactions with each other, Ebony Goddess: Queen of Ilê Aiyê shows the contest's role in reshaping the idea of beauty in a society in which African descendants constitute the majority of the population but is pervaded by Euro-centric concepts of body esthetics. The concept of the Ebony Goddess creates an alternative view of the black female body as beautiful, desirable, and talented, promoting social change at its most basic level: the individual sense of self.
Background
Salvador, Bahia, is the third largest city in Brazil, with a population of over 2.7 million, about the same as Chicago. Eighty percent of the city is of African descent, making Salvador one of the largest urban black populations outside of Africa. Yet, despite this overwhelming majority, the pervasive influence of the Euro-centric values of the elite minority is striking.
In this social environment, for the past three decades the Bahian Afro-Brazilian group Ilê Aiyê has been an agent of black consciousness, with social work helping individuals in the community, raising collective pride and awareness of African culture, and speaking with a political voice in issues of racial discrimination. The political nature of the concept of beauty has been one of its central concerns, and its carnival queen, the Deusa do Ébano (Ebony Goddess), is a key visual and symbolic element of its carnival procession.
"A touching tale about blackness, beauty and the girly world."
—Gilson Jorge, Brazil Chronicle
Persecuted by the police and the media during its first years, and still controversial for only allowing blacks to parade with the group, Ilê Aiyê is now a renowned element of Bahia's pre-Lenten festivities. During carnival, the group popularly referred to as "o mais belo dos belos" (the loveliest of the lovely) brings to the streets hundreds of musicians, dozens of dancers, and thousands of members.
Although Ilê Aiyê´s songs are never played on the radio (unless they get recorded by a white performer) and their CDs have very limited commercial distribution, everyone in Salvador knows the words to Ilê's songs. As Ilê Aiyê passes, carnival crowds sing along to songs about the importance of African and African-Brazilian culture and religion.
Buy the DVD
Educational Distribution
To purchase for Higher Education, K-12 &Public Libraries visit Third World Newsreel.
---
Home Use in the Unites States
DVDs are available in the U.S. via Amazon.
---
International Home Use
DVDs are also available for sale outside of the U.S. via Amazon's CreateSpace eStore.
---
Public Screenings
Contact us if you'd like to screen this movie in public.

Credits
Producers: Carolina Moraes-Liu and Chung Liu
Director and Editor: Carolina Moraes-Liu
Associate Producer and Ethnographic Consultant:
Lisa Earl Castillo
Music: Ilê Aiyê
---
Awards and Nominations
2010 HBO NALIP Documentary Award Finalist
Winner, Best Short Documentary—San Diego Latino Film Festival
Winner, African Diaspora Film Award—San Diego Black Film Festival
Nominated, Best Short Documentary—Pan African Film Festival
Nominated, Best Short Documentary—Cine Las Americas International Film Festival
Nominated, Best Short Film—Hollywood Brazilian Film Festival
---
Film Festivals & Screenings
San Diego Black Film Festival—World Premiere
New York African Film Festival
Chicago Latino Film Festival
Pan African Film Festival—Los Angeles
Dance on Camera Festival—Lincoln Center
Women's International Film Festival—Miami
San Francisco Latino Film Festival
Cine Las Americas International Film Festival
International Black Film Festival of Nashville
International Women's Black Film Festival
San Francisco Women's Film Festival
Sankofa—Washington, DC
San Diego Latino Film Festival
African Diaspora International Film Festival—NY
Hollywood Brazilian Film Festival
Texas Black Film Festival
Africa World Documentary Film Festival—Barbados, Bermuda
Viver Brazil—Los Angeles
Casa do Benin—Bahia, Brazil
Bahia Afro Film Festival—Brazil
Brazilian Voices of Cinema - San Francisco
Bay Area Women in Film & Media—2011 Short Film Showcase
BAMcinématek series Creatively Speaking
AfroBrazilFest - Washington DC
Puerto Rico International Film Festival
Modern Film Festival - MAM of Fort Worth
Seattle Latino Film Festival Series
Trinidade+Tobago Film Festival
Bernal Heights Outdoor Cinem—SF
Docus Brazil North America Video Fest—Florida
Femmes du Brésil—France
Society of Photographic Education—SF
Kapu Film Festival —Austria
Norhside Film Festival - Brooklyn
SOAS, London Univeristy - London
Southbank Centre, London
FUNCEB - Bahia